Welcome to Malcolm Hill's Home Page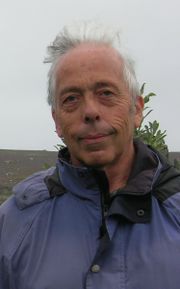 Very sadly, Dr Malcolm Hill died after a long illness on 19th November 2021. If you would like to get in touch with someone about his compositions or about any other aspect of his work, please visit the Contact page.
A commemoration of his life and work was held in Bath on Sunday 17th July 2022. Click here for more information.
To listen to some of Malcolm Hill's compositions please click LISTEN in main menu.
To listen to some of Malcolm Hill's improvisations please click Organ Improvisations in main menu.
In August 2015, Malcolm Hill started uploading pdf files of over 200 of his compositions onto Petrucci Music – IMSLP at https://imslp.org/wiki/Category:Hill,_Malcolm
His most recent compositions are Beati Pacifici [a setting of the active Beatitudes for two Mezzo sopranos and organ (approx. 9 minutes), completed in January 2021], and a two-movement Bassoon Sonata (composed during February 2021). These, along with Exile, a cantata-suite, are available at imslp.org
Exile was composed while Malcolm Hill was attempting to recover from sepsis which followed an operation in 2018 and was never fully treated. He decided to compose individual movements rather than a running narrative, in case he did not live to see the end of the work, but which could be connected if completed. The decision to incorporate a number of languages was primarily to remind the listener that exile has happened to many races. All of the first six Interludes were composed after the 8th Choral Movement. It was when his infection became worse, in January 2020, that Hill decided to add a 9th Choral Movement, to finalize the F# and to wallow in the sound of a dramatic contralto's low notes. He then decided to add a textless female chorus to sing with both the flute and cello in a final Interlude, and composed this last with references to two earlier movements.
The Cantata Exile was conceived as a choral suite of movements, each of which could, as in so many choral concerts, be taken out of context and performed separately. As exile has happened to members of so many different races, a number of languages were set. Interludes were then inserted between choral movements to give the singers a brief rest. The interludes are all optional. They should start c.3-4 seconds after the previous choral movement and be followed by the next choral movement after c.4-5 seconds.
The whole work is based around the octatonic scale, moving from the first movement's F# through tone/semitone/tone/semitone to F# for the final movement.
Some First Performances of Choral Works:
Many of Malcolm Hill's works receive their first performances in Bath, partly so that any problems might be encountered before going on tour.
A chorus from Malcolm's most recent comedy-opera was performed at Christ Church, Julian Road in Bath on Friday 17th May 2019 as part of the Bath Festival. The libretto of the chorus comes from the Old Testament book of Zephaniah, which according to recent translations orders the population not to wear foreign clothes (the Vulgate version for this chorus is used in the work, although the bulk of the opera is in English).
Malcolm Hill's setting of St John of the Cross' poetic paraphrase, Encima de las Corrientes was given its first performance by soloists Katharine Adams, Alison Alexander and Paul Feldwick with Bath's Chandos Singers on Saturday 24th November 2018 in the Magdalen Chapel, Holloway, Bath.
Malcolm Hill's comedy-opera Bath: The Graveyard of Ambition received its first performance on Saturday 19th August 2017, starting at 6.30 in the Magdalen Chapel, Holloway, Bath. It was performed by Bath Chamber Opera, to mark the opera's leading tenor Robert Jack's moving from Bath to Cambridge at the end of August.
The central scene of the comedy-opera was performed (free) by Bath Chamber Opera on Friday 18th May at St. Swithin's Church, Bath at 9pm as part of Bath Festival's Party-in-the-City.
The comedy-opera is set in a medical waiting room in Bath, where various patients discuss their problems with the City: Seagulls, Pollution, Library-closures, Parking, etc.. v Georgian architecture, Walks along the river, the various Festivals.
After a brief Overture, four "professional patients" arrive who are instructed by a fierce receptionist to fill in a questionnaire about the surgery's proposed move. The patients discuss problems about living in Bath before another patient arrives who happily announces he is leaving Bath. A depressed woman sings about how terrible the city is to her, and a medic unsuccessfully tries to console her. In contrast, a jubilant new character who has just moved to Bath arrives to register – she sings about how much she enjoys what she has seen so far. Enter an angry man who has just been splattered by a seagull: he complains about how futile the attempts seem to have been in controlling them. He is sent in to see the doctor, but soon returns in an even worse mood – all the doctor wanted was to discuss the surgery-move rather than consider his symptoms: "Here's a pamphlet, goodbye". There is a general outburst which the receptionist tries to quell. Then the doctor emerges: he is totally worn out and leaves. The receptionist and the new female patient conclude that few leave the city, even if they no longer have the energy.
The mostly neo-baroque comedy-opera is set in English and based on texts and tunes of the 17th and 18th centuries. Main parts were sung by Jane Hunt (a soprano who has just moved to Bath and likes everything about it), Katherine Lush (a mezzo who is really depressed), Robert Jack (tenor who is leaving the 'Graveyard of Ambition'), Paul Feldwick (bass-baritone who has just received a 'present' from a seagull and is in a bad mood); they all have to get past the fierce receptionist (Katharine Adams, soprano). Other singers included Alison Alexander (soprano who acts as Paul Feldwick's carer), Mandy Shaw (contralto who leads the 'professional patients' who meet at the same time every week in the surgery's waiting room and discuss current problems), John Gutteridge (the exhausted and exasperated doctor), and various other patients (sung by members of the Chandos Singers).
* * * * * *
The second movement of Malcolm Hill's secular cantata Avon Street – en plein air was performed at St. Michael's Without Church, Bath as part of the Bath Festival on 19th May 2017: a setting of Caroline Heaton's five-movement poem which first appeared in find another bath – a book compiled by Anna Kot in the Autumn of 2016. The poem was printed opposite a painting by Ben Hughes (below). The complete work was performed on 8th July 2017 at the Magdalen Chapel, Holloway, Bath. The Chandos Singers of Bath in both performances were enhanced by main soloists Jane Hunt (soprano, 8th July only) and Paul Feldwick (bass-baritone, both performances) and Hugh Osborne (cor anglais).
In the same concert on 8th July, Malcolm's 5-minute setting of Richard Pearce's poem The Endless Weave received its first performance. The poem also appeared in find another bath, printed opposite a triptych painting "Dancing from the Mist" by Usha Pearce (below). Malcolm Hill's setting is for three soprano soloists, three choral sopranos and chamber organ.

Recent First Performances of Choral Works

:

Many of Malcolm Hill's settings of poetry by Caroline Heaton were performed by Jane Hunt, Paul Feldwick and the Chandos Singers on Saturday 12th November 2016 at 3pm at St James Priory, Bristol as part of a concert to celebrate the 800th anniversary of the sealing of the Bristol Magna Carta (on 12th November 1216).

Malcolm Hill's Eight Songs from 1500 were performed on Saturday 2nd July 2016 by Katharine Adams, Julia Rushworth, Robert Jack and Paul Feldwick, accompanied by Malcolm Hill.

Four of Malcolm Hill's works were performed on Friday 20th May 2016 (at St Swithin's, Bath). At 7.40 a concert performance of excerpts from his comedy-opera Neptune was presented by Bath Chamber Opera (who Bath Festivals had mistakenly advertised as Bath Chamber Orchestra). Then at 8.40 his medieval setting of Quasimodo, his 19th-century setting of Jeesus Kristus meille nyt and his ornamented version of Josquin's Regina were sung at the start of a set of choral works sung by the Chandos Singers.