Bath: the Graveyard of Ambition
Malcolm Hill's Bath: Graveyard of Ambition received its first full performance on Saturday 19th August 2017 at the Magdalen Chapel, Holloway, Bath BA2 4PX, starting at 6.30 (and ending at about 7.15 to give the audience time to get to other events). Bath Chamber Opera's performance was to mark the opera's leading tenor Robert Jack's moving from Bath to Cambridge at the end of August.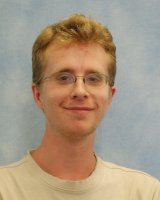 Rob Jack
The comedy-opera is set in a medical waiting room in Bath, where various patients discuss their problems with the City: Seagulls, Pollution, Library-closures, Parking, etc.. v Georgian architecture, Walks along the river, the various Festivals.
After a brief Overture, four "professional patients" arrive who are instructed by a fierce receptionist to fill in a questionnaire about the surgery's proposed move. The patients discuss problems about living in Bath before another patient arrives who happily announces he is leaving Bath. A depressed woman sings about how terrible the city is to her, and he unsuccessfully tries to console her. In contrast, a jubilant new character who has just moved to Bath arrives to register – she sings about how much she enjoys what she has seen so far. Enter an angry man who has just been splattered by a seagull: he complains about how futile the attempts seem to have been in controlling them. He is sent in to see the doctor, but soon returns in an even worse mood – all the doctor wanted was to discuss the surgery-move rather than consider his symptoms: "Here's a pamphlet, goodbye". There is a general outburst which the receptionist tries to quell. Then the doctor emerges: he is totally worn out and leaves. The receptionist and the new female patient conclude that few leave the city, even if they no longer have the energy.
The mostly neo-baroque comedy-opera is set in English and based on texts and tunes of the 17th and 18th centuries. Main parts were sung by Jane Hunt (a soprano who has just moved to Bath and likes everything about it), Katherine Lush (a mezzo who is really depressed), Robert Jack (tenor who is leaving the 'Graveyard of Ambition'), Paul Feldwick (bass-baritone who has just received a 'present' from a seagull and is in a bad mood):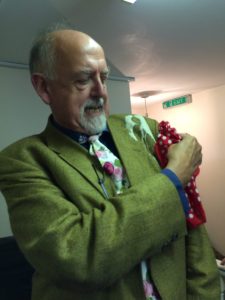 All the patients have to get past the fierce receptionist (Katharine Adams, soprano). Other singers included Alison Alexander (soprano who acts as Paul Feldwick's carer), Mandy Shaw (contralto who leads the 'professional patients' who meet at the same time every week in the surgery's waiting room and discuss current problems), the exhausted and exasperated doctor (John Gutteridge, bass), and various other patients (sung by members of the Chandos Singers).
On Friday 18th May 2018, Bath Chamber Opera performed the central scene from Bath: Graveyard of Ambition as part of Bath's Festival-in-the-City, starting at 9.00 in Walcot St. Swithin's.