THE BEAR – A COMEDY-OPERA
Based on the 1888 one-act play by the world's
second most famous playwright
ANTON CHEKHOV
Composer – MALCOLM HILL
Librettist – GENE TYBURN
ORIGINAL CAST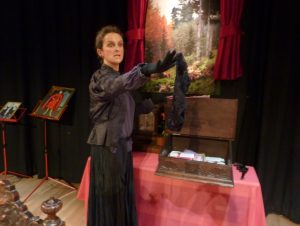 JULIA RUSHWORTH  as THE BEAUTIFUL YOUNG WIDOW – Madame Elena Ivanovna POPOVA,
with dimples on her cheeks
"After my husband's death, I found not only some love-letters…"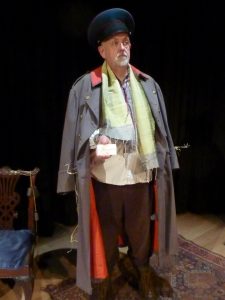 PAUL FELDWICK as THE BEAR – Grigorii Stepanovich SMIRNOV, a still youthful landowner
"Here is my card"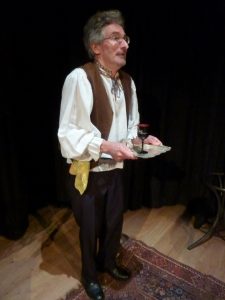 SIMON CALDWELL as THE TRUSTY OLD RETAINER – Madame Popova's elderly lackey, LUKA
"Here is vodka … or is it water?"
THE SCENE
A late 19th century drawing room on Madame Popova's country estate.
The lady of the house is pining away, mourning her paragon of a dead husband, Nikolai Mikhailovich, who perished in a snowstorm on a winter's night.
Popova's trusty servant, liberated serf Luka, begs her not to waste any more time grieving – her looks won't last forever and there's a regiment of handsome officers stationed in the next town.
Madame Popova will hear none of this.  She will remain faithful to her husband until her death.
A knock at the door.  Enter boorish landowner and animal feed merchant, Smirnov, come to collect one of Popov's unpaid debts (for oats).  Madame Popova doesn't have any cash on her.  She won't have any until her estate-manager returns the next day from town.  She can't pay and instructs Luka to show Mr Smirnov out.
Smirnov digs his heels in and refuses to leave.  A blazing row ensues …
THE PLAY
Chekhov is known outside Russia as an elusive introvert who wrote plotless plays.  In Russia he's also known as a newspaper columnist, a comic writer and right from the start, the main-stay of amateur dramatic groups.
Aged 30 and struggling with TB and debt, Chekhov wrote to his family, "All hopes must rest on those stupid amateurs who are going to produce myBear." (Letter from Naples to family, 7th April 1891).
Chekhov's literary career began as a teenager in the southern town of Taganrog when his merchant father went bankrupt.  Chekhov senior fled with his wife to Moscow, leaving Anton to pay his brothers' school fees and send money to Moscow.  The multi-talented Anton churned out hundreds of money-spinning short stories and plays under the pseudonym of Antosha Chekhonte.  He was so successful that he managed to put himself through medical school and qualify as a doctor.
Chekhov was 28 when he wrote The Bear.  He had not long since decided that "Medicine is my lawful wedded wife, and literature my mistress.  When I've had enough of one, I can go and spend the night with the other."  
His literary career was beginning to take off.  The 'mangy little vaudeville'was a run-away hit in Moscow.  Performed the next year at the Alexandrinsky Theatre in St Petersburg, the play became a favourite of Tsar Alexander III.
Although Chekhov despised the 'dreary Russian theatre'he highly regarded the original Mrs Popova, the famous Maria Savina.  The character of Smirnov was written specifically to demonstrate the vaudeville skills of the equally famous Solovtsov.
Maybe The Bear became so successful because the male characters contain two of Chekhov's self-confessed character traits:
a fiery temper and a nervous disposition.
Is Chekhov's Bear a farcical little trifle or an exquisite hors d'oeuvre?  One thing is clear,
'There's nothing harder than writing a good vaudeville'– (Anton Chekhov).
CHEKHOV'S BEAR IN MUSIC
A very entertaining, splendidly produced Soviet film version of 1938 is available on youtube.
It's a bit like an Ealing Comedy with music slightly reminiscent of the St Trinian's films.
The English composer, William Walton set The Bear in 1967 as "An extravaganza in one act" with a chamber orchestra and extensive percussion, including jingles, whip, rattle, crotales and bongos.  There's a digital recording on the Chandos label with Della Jones, Alan Opie, John Shirley-Quirk, the Northern Sinfonia and Richard Hickox conducting.
Dick Vosburgh & Frank Lazarus reworked the play into "A Night in the Ukraine" (1975), reworked by Dick Vosburgh and Frank Lazarus into a faux Marx Brothers comedy.
MALCOLM HILL WRITES ABOUT HIS OPERA VERSION
One day in 2004 I received Hollywood actor Gene Tyburn's libretto of 'The Brute'.  Tyburn had been passionate about opera from childhood.
I began to read,"As the curtain opens, the music will reflect the depression of Mrs Popov and that we are in Russia (perhaps using some famous Russian folk tune integrated into the overture). Mrs. Popov is standing looking out of her window (right stage).  We see the interior of a Victorian country home. Up center is a large painting covered with a black drape so you don't see the whole image of the man. Mrs. Popov is a beautiful woman in her thirties, fighting back tears. In comes her fuddy duddy servant who is bringing her a cup of tea. He is worried about her. As he reaches center stage, he notices the audience, turns and steps toward them singing in a kind way…
              Good afternoon.
As you can see, my mistress is in a bad way.
I am worried sick since my master died.
Leaving her alone to pine away."
By the end of the day I had improvised the whole one-act opera – playing and singing all 3 parts – recorded and sent it back to him.
Tyburn  worked for many years as a prolific Hollywood actor in film and TV.  Since childhood he'd been passionate about opera and had produced many libretti all in rhyming couplets.  He is now on a mission to make Shakespeare and Chekhov accessible to opera composers and to the public. Tyburn had turned a play into a libretto that was mostly recitative: fast words.  It worked as an improvisation but as a staged opera the words needed much more space.  I then had the fun of choreographing and lyricising the opera which inevitably meant pruning Tyburn just as he had pruned Chekhov.
I hope my opera conveys the farcical elements of Chekhov's original much-loved characters.
As well as other short operas I've written a full-length 3-act opera for large orchestra: CHAUVIN.  It's based on a libretto by John Deethardt, is based on the mythical super-patriot, Nicolas Chauvin.  Enlisted in Napoleon's army at age 18, Chauvin fought in numerous campaigns and was wounded 17 times.  He gave his name to the term for extreme or exaggerated patriotism: Chauvinism.  The word later came to mean 'excessive or prejudiced support or loyalty for one's cause or group or sex' [details at malcolm-hill.co.uk]
SOLOISTS
Paul Feldwick is a recovering adman, living in Frome,  who now works as an organisational consultant. He studies singing with Isobel Buchanan.
He sings with a number of local choirs and has sung solos with Chandos Singers, Bath Minerva Choir, Devizes Chamber Choir and Melksham Choral Society. Until recently he was Chairman of Bath Minerva Choir. He also plays the piano and has given several chamber music recitals locally. As life is too busy to do acting as well as singing, his ambition now is to do more opera.
Julia Rushworth sang early solo roles inThe Wizard of Oz(Dorothy)Joseph and the Amazing Technicolor Dreamcoat (Joseph) and Alice in Wonderland (Mock Turtle). She then discovered the pleasure of playing in chamber ensembles and singing early English opera, including roles in Purcell's Fairy Queen and Dido and Aeneas (Belinda). Impressed by Malcolm Hill's musicianship and ambitious repertoire (see Chandos Singers' website for a list of works and concerts) and intrigued by his version of Chekhov's play, she has enjoyed the challenge of learning something new.
Simon Caldwell is a bass/baritone making the transition from choral singing to solo performance.  He currently studies with Isobel Buchanan.  Simon also plays the violin and piano, which he studied at the Royal Northern College of Music before going on to Cambridge University to read Natural Sciences.  He has sung with numerous choral societies in Bath, in Bristol and in London.   Simon has performed as a soloist with the Silver Ring Choir and the Chandos Singers in Bath, and with Nailsea Choral Society.
Performances
Bath Chamber Opera (originally called Bath Russian Opera) was set up to perform The Bear, which was given its U.K. première on Friday 18th November 2011 at the Rondo Theatre, Larkhall, Bath, performed by Bath Russian Opera.
The Bear was later performed in Box (Saturday 6th October 2012) and was the subject of a workshop in Frome (Saturday 9th February 2013).
ASM and Designer: Katharine Tylko
Popov's love-letters by Madeleine
Director and Pianist: Malcolm Hill
For more information in English about Chekhov, see Rosamund Bartlett's biography of Chekhov and translation of his letters.
© 2016 Bath Chamber Opera